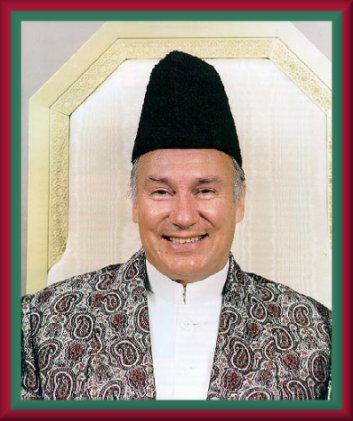 "And peace on him on the day he was born, and on the day he dies, and on the day he is raised to life" Holy Quran 19:15
"And I follow the religion of my fathers, Ibrahim (Abraham) and Ishaq (Isaac) and Yaqoub (Jacob); it beseems us not that we should associate aught with Allah; this is by Allah's grace upon us and on mankind, but most people do not give thanks." [12.38]
"He it is Who sent His Apostle with guidance and the religion of truth, that He might cause it to prevail over all religions." [9.33]
"And strive hard in (the way of) Allah, (such) a striving as is due to Him; He has chosen you and has not laid upon you any hardship in religion; the faith of your father Ibrahim (Abraham); He named you Muslims before and in this, that the Apostle may be a bearer of witness to you, and you may be bearers of witness to the people; therefore keep up prayer and pay the poor-rate and hold fast by Allah; He is your Guardian; how excellent the Guardian and how excellent the Helper!" [22.78]
Alhamdulillah!
We are truly fortunate to be led by the progeny of Prophet Abraham and Prophet Muhammad (sas)
Happy Birthday Mowlana Hazar Imam! Salgirah Mubarak! Khushiali Mubarak to everyone!
We are blessed to be celebrating another birthday of our beloved Mowlana Hazar Imam. And, he is now 65 years old! An official retirement age! Do you think he is going to retire? Like I say every year, it is so tough for me even to document what he did the year before that I gave up the effort. But, he lives that life. Isn't there a lesson for us to learn? Just this year alone:

He Contributed US $500,000 to the Earthquake Relief Fund


He Addressed the International Convocation of the American Association of Universities Among the speakers at the conference also were Charles M. Vest, AAU Chairman and President, MIT, and The Honorable Colin L. Powell, Secretary of State


Mowlana Hazar Imam received the Archon Award for Promoting Global Health and Welfare


Mowlana Hazar Imam signed a diplomatic agreement with President Mkapa of Tanzania


Kyrgyz Repulic's Largest Bank inaugurated Aga Khan Fund for Economic Development as Principal Shareholder


Speech by His Highness the Aga Khan at the 2001 Award Presentation Ceremony of the Aga Khan Award For Architecture in Syria


Mowlana Hazar Imam gave Didaar to Syrian Jamaat


Interview in Aiglemont by Robert Ivy the 2001 Aga Khan Award For Architecture
The above list does not include the opening of Aga Khan High School in Osh, Kyrgyzstan, his racing activities and involvement with the Americas Cup, his many social engagements, and when I look back at everthing he is able to fit in in a year, my mind reels. A more comprehensive list can be found at the Heritage Timeline.
How can we as his Murids, do more for our world and for our spiritual uplift?
"With respect to relations between the Western and Islamic worlds, are we not seeing a conflict of stereotypes and prejudices, exacerbated by a good measure of ignorance about Islam? There are, of course, some differences, but if superficiality and trivialisation can be set aside, and be replaced by the will to go deeper to seek a solid foundation for mutual understanding and respect, it can be found in the common heritage of the Abrahamic faiths and the ethical principles that they share."-- His Highness the Aga Khan, speaking at the presentation ceremony for The Aga Khan Award for Architecture on 6 November 2001.
Islam has the answer to the world's problems by following the true teachings of Islam; equality of all humans (isn't this why the Christian and Jewish faiths flourished when Islam was ruling the world?), by bringing the quest for material goods in real perspective i.e. not giving up our spiritual practices in the pursuit of material happiness. All of us should be the ambassadors of Islam and show the world that the "terrorist" label is not one that belongs to Islam. Let us do our part in educating everyone about what it means to be a Muslim, this year and every year.