| Home | Home Mosaic | Guestbook | About | Email | Page 1 | Page 2 | Page 3 | Children's Page | Contents | Search | What's New |
His Highness the Aga Khan Facilitates Commonwealth Tribute to Queen
Windsor, United Kingdom, 19th May, 2002
His Highness the Aga Khan was present last night as mounted officers from Canada, India, Kenya and Pakistan joined contingents from other countries in an unique tribute to Her Majesty Queen Elizabeth, as Head of the Commonwealth, on the 50th anniversary of her accession to the throne.
The Aga Khan's support enabled contingents from the four Commonwealth countries to participate in a major international event honouring the Queen. Recognising shared history and traditions as well as the strength of diplomatic linkages, the equestrian spectacular was one of the largest of its kind ever staged in the world.
The Aga Khan and the Begum Aga Khan joined with the Queen and the Duke of Edinburgh, members of the Royal Family and Ambassadors of participating foreign and Commonwealth countries that also included the United States and France, to view the presentation as part of an event entitled "All the Queen's Horses."
"This event serves to acknowledge the Commonwealth's importance in maintaining relations among countries through both good and less good times in their shared history," said the Aga Khan. "The event honours the personal attention that Her Majesty the Queen has accorded to that history and the admirable manner in which she has exercised, and continues to exercise, the challenging role of Head of the Commonwealth."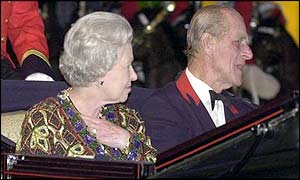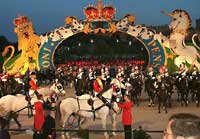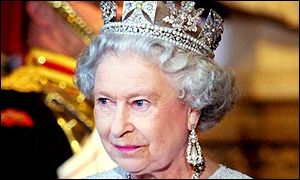 The Commonwealth contingents included representation from the Royal Canadian Mounted Police, the 61st Cavalry and the Veterinary Corps of the Indian Army, the Guides Cavalry, the 27th Cavalry, the 19th Lancers (formerly King George V's Own) and the President's Bodyguard from Pakistan and the Kenya Police Anti-Stock Theft Unit.

The Aga Khan and the Ismaili Muslim community have long-standing links with each of these countries where the Community lives and where institutions of the Aga Khan Development Network work closely with the public and private sector.

The Aga Khan Development Network is a group of private development agencies working to empower communities and individuals, often in disadvantaged circumstances, to improve living conditions and opportunities, especially in Asia and Africa. The Network's agencies work for the common good of all citizens, regardless of their gender, origin or religion and its underlying impulse is the ethic of compassion for the vulnerable in society.

For further information, please contact:

The Information Department
Aiglemont
60270 Gouvieux
France

Telephone: +33.3.44.58.40.00
Fax: +33.3.44.58.11.14
e-mail: amyn.ahamed@aiglemont.org
website: www.akdn.org

Téléphone: (33) 3 44 58 40 00
Facsimilé:(33) 3 44 58 11 14

Other Related Material on the Ismaili Web

Mowlana Sultan Mahomed Shah's Golden Jubilee


Mowlana Hazar Imam's Speech at the Seerat Conference
Please sign our guestbook
---

| Present Imam Shah Karim Aga Khan IV| 48th Imam Mowlana Sultan Mahomed Shah Aga Khan III | Hazrat Ali | Prophet Muhammad | Ismaili Heroes | Poetry | Audio Page | History | Women's Page | Legacy of Islam | Current Events |
Email us


Back to Ismaili Web