!WS Abraham/Ismail-sacrifice-truth-Islam-Ishmael-Ismael-Ibrahim-Sarah-Hajer-Hajj-Pilgrimage-Isaac-Israel-Jews-Jewish-Bible-Torah-Old-Testament Eid-ul-Adha-al-Adha-Mecca-Makkah-Arafat-mountain-Quran-Koran-Qur'an Islam, Submission, God, Allah, Muhammed, Mohammed, Hadth, Sunna, Sunnah, women Jihad, terrorists, Jesus, Mary, Jews, Noah, Ark Abraham, Ishmael, Isaac, Jacob, Solomon, Bukhary, Moslem Muslims, Submitters dress, code, math, mathematical, miracle, proofs, Israel, Arabs, Abraham/Ismail-sacrifice-truth-Islam-Ishmael-Ismael-Ibrahim-Sarah-Hajer-Hajj-Pilgrimage-Isaac-Israel-Jews-Jewish-Bible-Torah-Old-Testament Eid-ul-Adha-al-Adha-Mecca-Makkah-Arafat-mountain-Quran-Koran-Qur'an Islam, Submission, God, Allah, Muhammed, Mohammed, Hadth, Sunna, Sunnah, women Jihad, terrorists, Jesus, Mary, Jews, Noah, Ark Abraham, Ishmael, Isaac, Jacob, Solomon, Bukhary, Moslem Muslims, Submitters>
| Home | Guestbook | Email | Page 1 | Page 2 | Page 3 | Children's Page | Contents | Search | What's New |
Mowlana Hazar Imam gets married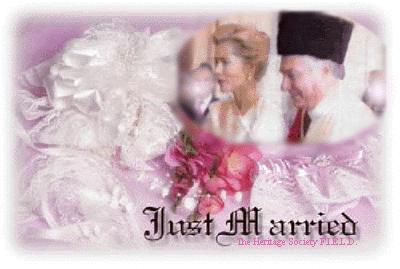 Dhan dhan aaj no daadlore...
Rejoice! Mubarak!
Mowlana Hazar Imam was married in France today, May 30, 1998, to Begum Inaara , a practising Muslim of German descent. She is a lawyer and speaks English, German and French.
The wedding took place in his home in Aiglemont in the presence of Leaders International Forum officers and their spouses and Begum Inaara was introduced to everyone individually.
Heartiest felicitations and Mubarak to all! There will be Talika and rejoicing in Jamat Khana.
As I receive more information, I will be updating this page.
With Ya Ali Madad,
Nina Jaffer

---

Whilst browsing this page, enjoy Kawaali Man Kunto Mowla in Real Audio

---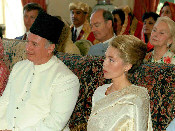 I just saw the news on CNN at 6.25 pm on the Lifestyles segment.
Mowlana Hazar Imam was wearing a white traditional Sherwaani with a black Astrakhan hat and was smiling the whole time.
Begum Inaara is very beautiful, young, and slim and was wearing a beautiful white silk saari and her blond hair was tied in a French roll. The ceremony was very colorful and Begum Inaara kissed the Quran!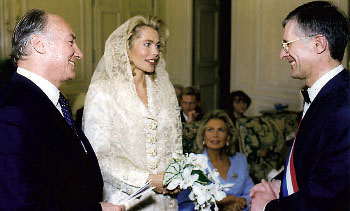 As soon as I get the pictures, I'll publish them here. Mubarak to all!

---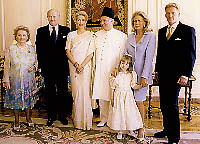 Here is a link to the guestbook to enter your wishes for the couple.


View the guestbook


Photo Collage from CNN


Press Release from Aiglemont


Daily Nation Article


Movie of the ceremony The quality isn't clear (to save bandwidth) but the audio is great.


Rejoicing around the world


Paris Match Article Awesome pictures!


Point de Vue Feature More pictures!


The following is news from Reuters:
Prince Karim Aga Khan remarries
02:30 p.m May 30, 1998 Eastern
PARIS, May 30 (Reuters) - Prince Karim Aga
Khan, spiritual leader of the world's Shia Ismaili
Moslems, married German-born Princess Gabriele
zu Liningen at his country home outside Paris on
Saturday, his office said.
It was the second marriage for both.
The wedding at the prince's Aiglemont estate in the
Oise department north of Paris was conducted by
Dalil Boubakeur, rector of the Paris mosque.
French police sources earlier in the day identified
Boubakeur as target of a Moslem fundamentalist
death plot presumably not connected to the
wedding.
The prince, 49th hereditary Imam (religious leader)
of the Ismaili community was born in Geneva on
December 13, 1936, son of Prince Aly Khan and
Princess Joan Aly Khan.
The Ismaili community numbers 12 to 15 million
people in 25 countries, the prince's office said.
Liningen, 35, comes from a family of industrialists.
She has a six-year-old daughter from her first
marriage.
Karim's father was once married to actress Rita
Hayworth.
Unlike his flamboyant father, Karim, a graduate of
Harvard University in the United States, has
generally shunned publicity but is reputed to
manage the same vast fortune his family has
traditionally enjoyed.
He directs the Aga Khan Development Network
which his office said was one of the world's largest
private sector entities and is involved in health,
education and rural development projects across
South and Central Asia and East and West Africa.
The family tradition of involvement in social causes
was launched by Karim's grandfather, Sir Sultan
Mohammed Shah Aga Khan.
Liningen is a consultant at the Paris headquarters of
the United Nations Educational, Scientific and
Cultural Organisation (UNESCO). She has
converted to Islam under the Moslem name Inaara,
derived from the Arabic word ``Nur'' (light).
The Aga Khan has three children, aged 24, 27
and 28, from his first marriage to English-born
Princess Salimah.
Source: Reuters

And from AP:
Aga Khan Marries German-Born
Princess who Converts to Islam
AP
30-MAY-98
GOUVIEUX, France (AP) The Aga Khan, spiritual leader of the world's Ismaili
Muslim community, has married a German-born princess who converted to
Islam.
In separate religious and civil ceremonies Saturday, the Aga Khan wed Gabriele
zu Leiningen at his Aiglemont estate in this tiny town, 25 miles north of Paris near
Chantilly, his office said in a statement. It was the second marriage for both.
The rector of the Mosque of Paris, Dalil Boubakeur, performed the religious
ceremony, and the mayor of Gouvieux, Patrice Marchand, performed the civil
marriage, a statement said.
The Frankfurt-born princess, 35, a consultant at the U.N. Educational, Scientific
and Cultural Organization in Paris, took the Muslim name "Inaara" upon her
marriage to the 61-year-old Aga Khan, according to the statement.
The Aga Khan is the 49th imam of the Ismaili community which boasts a
following of 12-15 million people worldwide. He has three children from his first
marriage to English-born Princess Salimah, all of whom work at his headquarters
at Aiglemont.
The princess' six-year-old daughter from her first marriage to Karl-Emich Prince
zu Leiningen is to live with her mother in France and Switzerland.
Saturday's private ceremony is to be followed by a reception in October.
Source: AP

---

40 Years of Imamat (peace be upon him) Dedicated to the community and the world

---

CNN Frames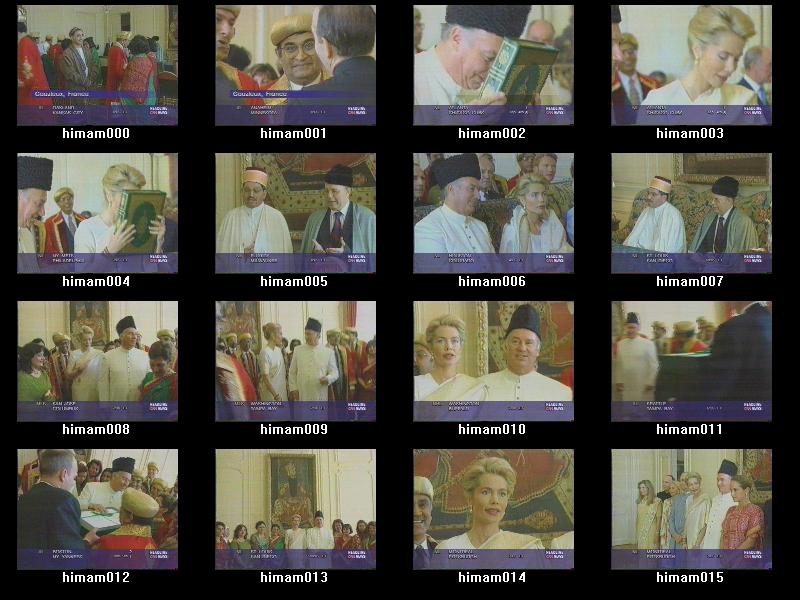 ---
Email us

Back to Ismaili Web