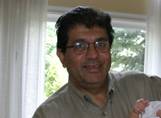 Gafoor Jaffer
PHOTOGRAPHY
Our Premium Package: $3,200

10 hours of photographic coverage with Gafoor and one associate photographer


400 images to choose from on-line website


Your favorite 300 4x6 Photos in a Presentation Album


Premium 30-Page Album with 30 images 8x10


Custom Designed 20-25 minute DVD Slide Show with music


All of your images on data DVD's with full reprint privileges
Our Associate Package: $2,000

10 hours of photographic coverage with two associate photographers


CD-ROM with 600+ images to choose from


Your favorite 300 4x6 Photos in a Presentation Album


Website with On-line presentation and ordering
Available Options include:

Custom Designed 20-25 minute DVD Slide Show with music $250


Additional copies of DVD slideshow – $35


24 Page Traditional Album with a combination of 4x5's, 5x7's, or 8x10's – $900


Traditional Parent Album with 24-4x5 photos $350


Additional Associate Photographer for each day - $600


Additional coverage - $150 per-hour
WEDDING VIDEO PACKAGES
The Standard Package $850

Single Camera Ceremony and Reception coverage. Client receives unedited ceremony and unedited reception coverage in DVD format.
The Medium Package $950

Single Camera Ceremony and Reception coverage as in the Standard package with the addition of up to 30 of your favorite photographs, your wedding invitation and a list of your bridal party added to the unedited footage.
The Royal $1,450

Two cameras, one manned and one stationary, will record the wedding ceremony plus single camera reception coverage. Full post production DIGITAL EDITING is included using the photos, title and credit material described in the Medium package. You will receive all of your source footage and a fully edited production in DVD.
BIG SCREEN PROJECTION SERVICES $450
Ultrahigh Brightness LCD video projector can be rented for just $450 including all setup, operation and breakdown (total usage time 3 hours). The guests at your wedding reception will enjoy your historical montage leading to your wedding of photographs elegantly edited and displayed larger than life through a state-of-the-art LCD video projector.
We accept Check or Cash - Master Card and Visa upon special request
1/3 deposit upon contract
1/3 due 7 days prior to wedding
1/3 due on day of wedding
Wedding Video Essentials Every wedding video we produce is skillfully crafted to your personal specifications and needs. A true broadcast quality digital camera, multiple microphones for clear and complete audio on separate audio channels, advanced artistic nonlinear digital editing will be provided with customized titles and your video images printed on the album cover.
Other popular options that are available include:

Additional cameras for ceremony, reception or both


Additional time on locations


Unedited footage on DVD


Rehearsal day coverage


Love story mini-movie


Photo montage for display at rehearsal or reception


Whatever your individual needs are!
When a wedding video is properly created to its potential, it will do more than just record or report what you look like and what you said. It will indeed capture the fulfillment of every detail involved in planning and experiencing the biggest day of your life thus far. You will want an engaging, romantic video that your friends will actually ask to see and they can't wait to tell their friends about. Choose a videographer who has consistently achieved these results and wants to customize your wedding video exactly the way you want it, the first time.
The going rate for an experienced camera professional with broadcast quality equipment is between $100 and $500 per hour. The time it takes to produce your video will require anywhere from 20 to 60 hours of highly skilled editing which ranges from $75 to $150 per hour. You can easily estimate what the cost should be for a top quality wedding video. You will always be able to find companies willing to do it for less. Be aware of committing to a lower level of skill, quality, experience and professionalism for your family's heirloom. Wedding videography is an art form. Videographers' skills and talents vary greatly. Sometimes it is better to spend a little more than you've planned instead of less than you should.
The marriage celebration has always been a high point of a family's celebrations. Preserving those memories artistically with natural motion, engaging editing and clear audio is one of the wisest investments you can make. Choosing the perfect videographer is a decision that requires research and careful consideration. Trust your wedding to a videographer with over a decade of wedding experience, hundreds of thrilled brides, is nationally recognized among his peers as a leader in this field, has received formal photographic education and is trusted by families through several generations. We will provide you an affordable solution to fit your budget and your requirements for the perfect wedding video.

How much does it cost? Probably our most asked question. It depends on what it is you are looking for. It can be anything you want it to be. We customize a wedding to suite your desires and must haves. Your priorities direct the creating of your wedding video. Our complete yet customizable weddings most often range from $2,000 to $5,000. Ceremony only coverage can start from only $895. Our wedding videos come with at least 10 hours of location coverage, two photo montages, advanced nonlinear editing, personalized and interactive DVD.

Why are you more expensive than other videographers? We love what we do and are here to make you look good. We back that up with unconditional quality with every wedding! Whether or not you find our proposals competitive depends on whom you are comparing us with. It also depends on what others will actually deliver for the price they may quote. Unfortunately it is fairly common to show a client a high end video sample and then sign them up for an inexpensive contract and deliver a video far inferior to what sample was shown and what a client expected. Remember you get what you pay for. Start with the best. Your video's value actually increases with time! Your video will indeed become priceless. Can you imagine having a cinematic love story of your grandparents' wedding day? What was your grandfather's reaction the first time he saw your beautiful young grandmother in her glorious dress?

Can I customize my own package? Please do! Most of our couples add or subtract options based upon their needs, desires and budgets. We want this to be as special for you as possible. Our packages are carefully designed each year from popular choices of recent brides. We have found that this helps tremendously to act as a wonderful starting point. Planning and creating a truly quality wedding video can become overwhelming as most couples have never done this before and have no idea what video options are even available.

How long is the final video? As long as it takes for us to accurately retell your story in an engaging style that you will want to watch over and over. Better yet, a style that it will be something that others will want to watch. Usually our general target is about 50 minutes. At least 40 and no more than 60 minutes. We take out the, "fast forward points" and leave the best parts that you want to re-live. It is similar to what photographers have done for years. They provide the best images in a nice presentation then give you your proofs to relive any moment that may have not made your album. We have had an overwhelmingly positive response from our brides with this approach!

What is covered / How long will I have you? At least 10 hours. There is never limit on the number of locations or what is covered (within reason, of course). You may add extra time or extra cameras to better suit your needs if you find that it is necessary. Some brides prefer looking back at their preparation before the service and some couples prefer to have every last dance covered at their reception. We give you the time and allow you to decide how to best utilize it.

Do you do interviews? We will be happy to accommodate your needs. As a rule, we do not. Many of our clients prefer to focus our time and energy on documentary artistic filmmaking that we are so well known for. Doing interviews with guests unexpectedly often takes away from the unobtrusive and natural style that we strive for. There are other ways to achieve the interview type recording in a less disturbing manor that we will be happy to discuss with you. As always, if you really want them, we will be happy to provide them for you.
Wedding Video and Photography nina22a@yahoo.com